Brand ······ Red de Lomas ONG
Type ······· Freelance Project PNUD︎
Published ·· 2018
Category ··· Identity
In 2015, UNDP (Perú) developed a project base o non-profit associations dedicated to the conservation and management of the Peruvian hills (Lomas) called Red de Loma del Perú. In 2018, the Red de Lomas del Perú had the need to create a strong identity that reflects awareness, impact and identification with the target, encouraging them to be part of this environmental initiative and raise awareness about the conservation of these natural spaces.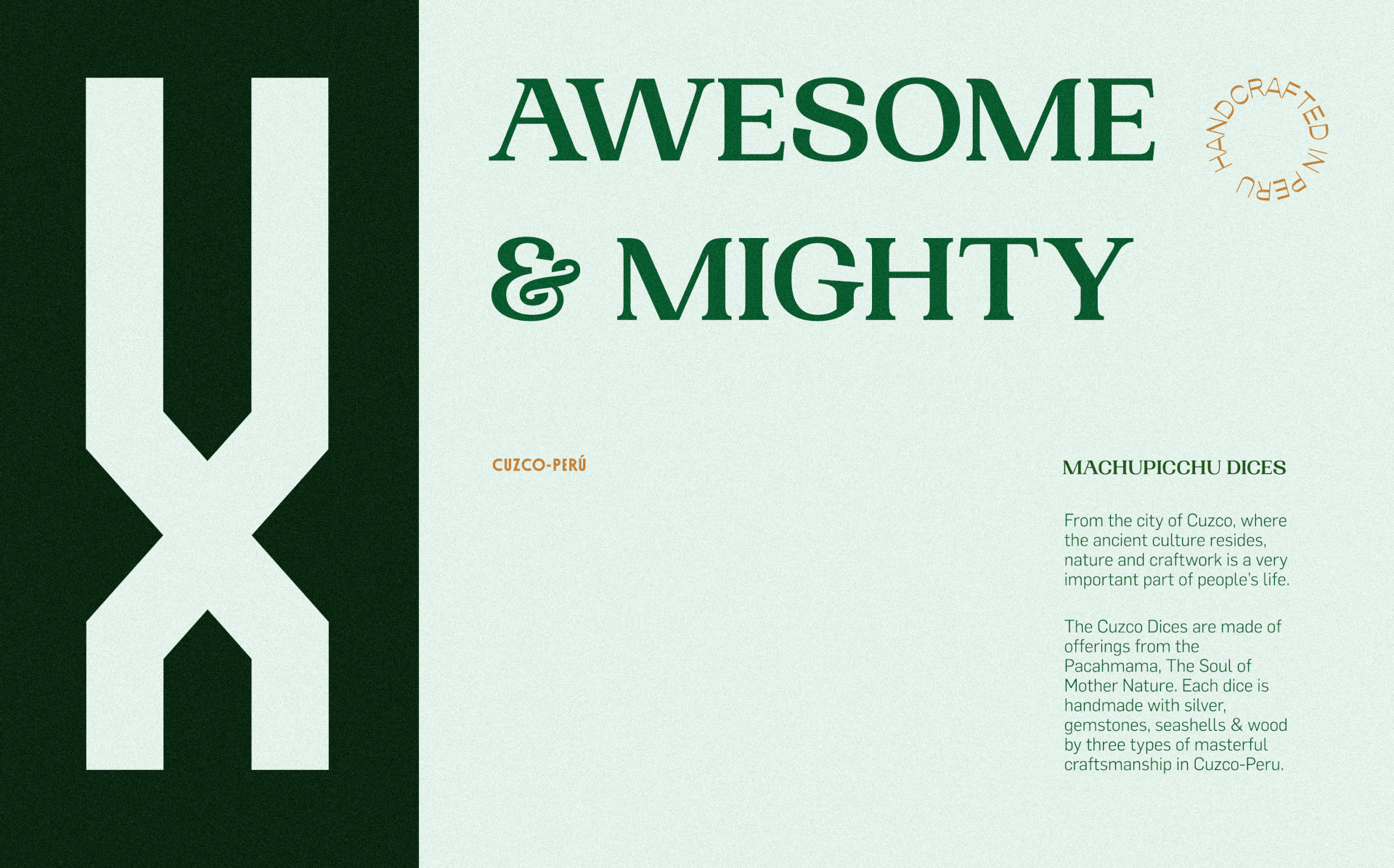 With a unique lettering designed exclusively for the brand crafted from the rough and geometric shapes of the classic Machu Picchu rocks as a link to the carving, the XIERRA logo has a powerful, legible and authentic Wordmark reflecting the origin of the product.

The brand also appropriated the iconic green color of the dice material to align to the concept of the natural, thus generating an elegant and attractive color palette.

In the research of the project, a unique value was identified in the people involved in the conservation of the Lomas. Before UNDP intervention came to Peru, it was the residents of the Lomas who protected these natural places with their own hands and on a voluntary basis.
This led to the development of the tangible concept in the logo: "Natural Guardians of the Hills"
For the logo the shape of a shield made by the hills themselves was used thus representing the guardians of Las Lomas. The flower of "amancaes" is the iconic flower of the hills and it only blooms when the Lomas are healthy enought. Based on that insight this yellow flower was used for the main emblem.
The same symbols of the isotype were used as graphic elements of the brand, thus representing the most important values of the project through the pieces as well as an additional topographic element communicating the characteristics of the hills in a subtle way.